Karkonoski Sejmik Osób Niepełnosprawnych [Karkonosze Association of Disabled Persons]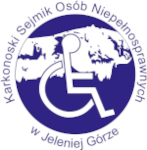 Communes
Poviats
Karkonoski Parki Narodowy [Karkonosze National Park] will carry out activities related to environmental education.
Karkonoska Agencja Rozwoju Regionalnego S.A. [Karkonosze Regional Development Agency] as a partner in the project will deal with the implementation of the measure Using the potential of residents for the economy of Jelenia Gora, except for meetings with entrepreneurs planned for execution by the Town of Jelenia Gora.
The application of accessibility standards during the design and implementation of the activities will be supervised by project partner – Karkonoski Sejmik Osób Niepełnosprawnych [Karkonosze Association of Disabled Persons], which will also implement a series of meetings in educational institutions on local identity and regionalism.
In cooperation with the communes: Bolków, Gryfów Śląski, Janowice Wielkie, Jeżów Sudecki, Karpacz, Kowary, Leśna, Lubomierz, Lwówek Śląski, Marciszów, Mirsk, Mysłakowice, Olszyna, Piechowice, Pielgrzymka, Stara Kamienica, Szklarska Poręba, Świeradów-Zdrój, Świerzawa, Wleń, Wojcieszów, Zagrodno, Gmina Miejska Złotoryja i Gmina Złotoryja and poviats: karkonoskim, lwóweckim i złotoryjskim a joint climate change adaptation plan will be developed for all communes of the Jelenia Góra Agglomeration.